A while back we created a short infographic with 7 Easy Steps to help businesses get started in blogging.
It got such a great response we wanted to explore the topic a bit further.
Jay Baer said, "Content is fire, social media is gasoline".
He's right, of course, and the most important part of content is knowing who you are talking to, talking to them on their level and building a connection.
Know your Fish
Dale Carnegie said, "Personally, I am very fond of strawberries and cream, but I have found that for some strange reason, fish prefer worms."
Knowing who you are trying to reach really is Marketing 101. It is the most critical element of anything you intend to achieve with any marketing effort. When writing its useful to keep coming back and asking yourself how useful / interesting / entertaining this is for your particular audience. If you are writing for beginners and newbies are you explaining terms early on so that can get the most out of your blog? If you are writing for a technical audience is it at a sufficient level that they will expand their thinking?
Further, you need to think about what will attract these individuals.
What is the best worm you can use to attract your chosen fish?
1. The Useful Worm:
Help your audience out. You should start out with posts like,
How To
FAQs
Check Lists
Ultimate Guide
Stats Posts
Tips Posts
All of these establish you as an authority in your chosen area and build trust with your reader.
Here's a great example – what more can you want from an expert than 'Everything you need to know'!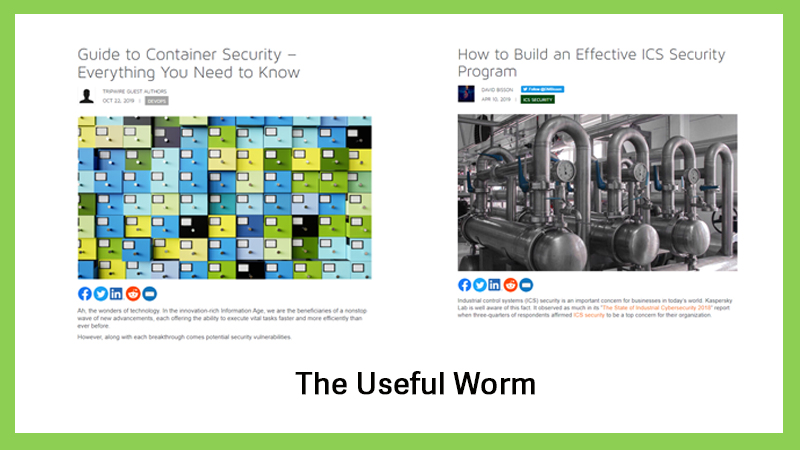 Credit: Tripwire, David Bisson & Michelle Moore
2. The Generous Worm:
Feature others and hopefully they will return the favour. Consider,
Crowdsourced posts
Interview or Profile piece
People to Follow
Pick of the Week / Month
Annual Round Up
All these aim to get your voice heard beyond your loyal audience and bring new people to hear what you have to say.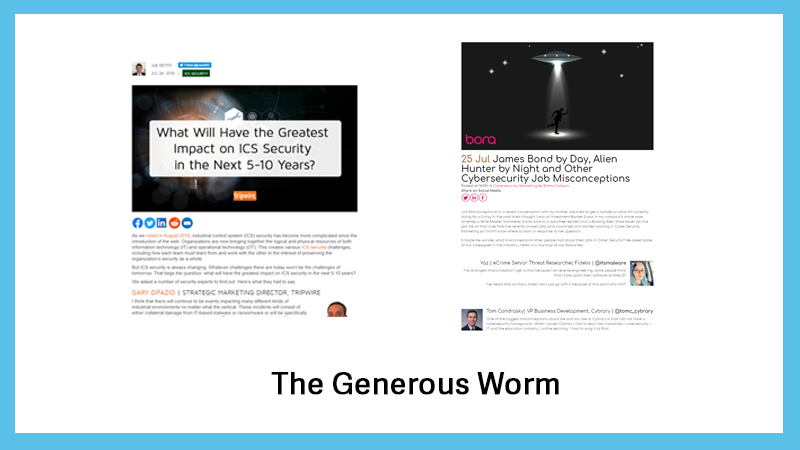 Credit: What Will have the Greatest Impact on ICS Security in the Next 5-10 Years? By Joe Pettit, Cybersecurity Job Misconceptions
This ICS piece worked really well because it featured 10+ contributors and also a video which also leads us to our next worm……
3. The Entertaining Worm:
Entertainment pieces are all over the web and social media. It can be hard to break through the noise but a compelling story, using humour, creating cartoons or video content can engage on an emotional level and helping people take a moment out of their day to be human again.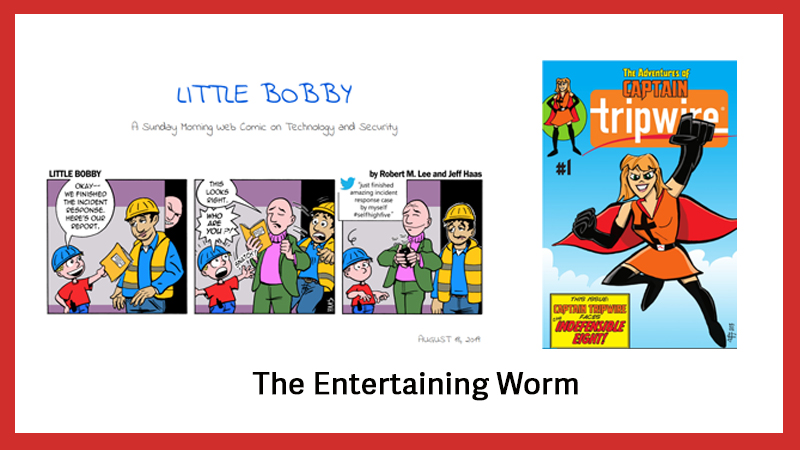 Credit: Little Bobby and Captain Tripwire by Tyler Reguly and Greg Hyland
In the world of Cybersecurity, Host Unknown provides really entertaining content. This video, I'm a C I Double S P (CISSP Parody), has had over 88k views since it was posted.
4. The Timely Worm:
Whilst more resource intensive, this worm is one of the most effective types of blog content you can create and keeps your audience coming back again and again. This is about,
News posts
Reviewing content
Surveys and Trends you can create or comment on.
Graham Cluley's Blog is a great example of using timely news pieces to keep his readership informed and entertained.
On the State of Security Blog, all the security news is grouped together on the blog homepage. This encourages the reader to go back daily. Its location on the page is great because it also means those daily visitors could see a featured article that they might be interested to read, ultimately keeping readers on the site longer.
5. The Engaging Worm:
Those fish won't bite unless they are interested – so make your blog engaging. These types of posts typically,
Ask Questions
Ask for Input
Create a Challenge
What If Post
Posts with Opposing Positions
Predictive post, asking your readers if they agree or have other ideas on a certain subject.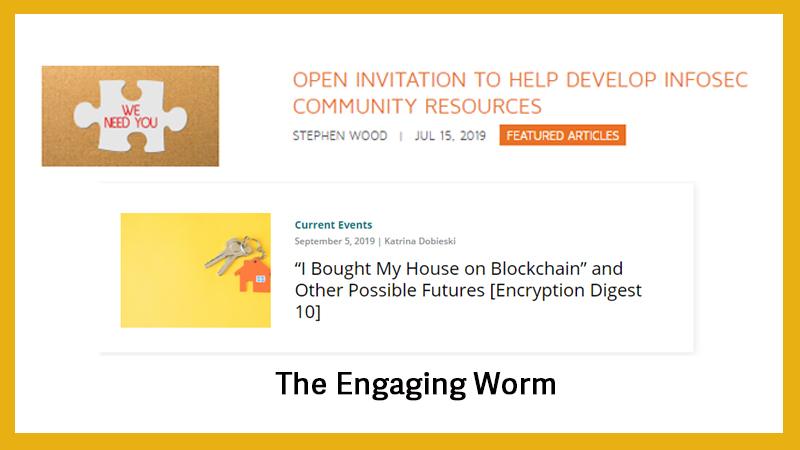 Credit: Stephen Wood, Tripwire and Katrina Dobieski, Venafi
The 'Predictive' post, by Katrina Dobieski, also has an intriguing title – nudging you to open and find out more.
Stuck for Inspiration?
There are even some great tools out there to help you if you get writer's block when coming up with new ideas. Try something like HubSpot's Blog Ideas Generator. Type in your keyword and their suggestions should spark off your creatively.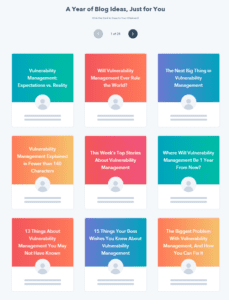 3 Mistakes to Avoid When Navigating the Ocean
Avoid getting discouraged – only 1% of blogs get more than 1000 shares, keep putting good content tailored for your audience out there on a regular basis and start to notice what captures people's attention.
Avoid making the headline an afterthought. In fact, it's everything. Well nearly. The content must live up to it too or people lose trust in you. People have a split second to decide whether they read your post. There is some great research about headlines here from Buffer. Devote some time to it and test it out with others, or run some A/B testing.
Avoid always following the rules. There is a tonne of rules on blogging out there. But consider this. When you know the rules, breaking some of them can help. It can help you find new people for your content. Write what you are passionate about and then take a step back.
Final Thoughts
The ocean of content is constantly changing. That can make it overwhelming but it also makes it fascinating and fun.
Know your fish
Choose their favourite worms
Get out there and explore
If you've enjoyed reading this blog please share it with someone else!
Why Knowing Your Fish is the Most Important Thing About Blogging