Creating content is a fundamental aspect of any online business. Whether it's webpages, eBooks, video, podcasts – every organization is doing it. Not that many companies focus on blogging, however.
However, one of the biggest challenges most companies face when it comes to creating content is having internal subject matter experts actually invest the time to share their experiences, knowledge and opinions with the marketing team! This practice is not only incredibly helpful to other members of the team, but also provides a great insight into the internal processes within the business.
Security Engineers, Analysts and R&D are some of the smartest people in your company and usually the biggest barriers to making contributions are time and confidence. If we were to focus on creating streamlined ways for them to communicate their findings without 'spotlighting' them, we would stand to gain a steady stream of brilliant insight.
How amazing would it be to have the ability to work with those internal experts to create content and educate your audience, driving new prospects to your business? That is what you could gain with a well-maintained, updated blog. It's an incredibly useful tool that compounds your expert's knowledge and creates a space where your clients can learn.
To help you with the process, we've created a quick and simple guide to blogging in seven easy steps.
It's just a quick overview but helps capture the essence of getting started.
If you'd like to learn more about how Bora can help, feel free to contact us!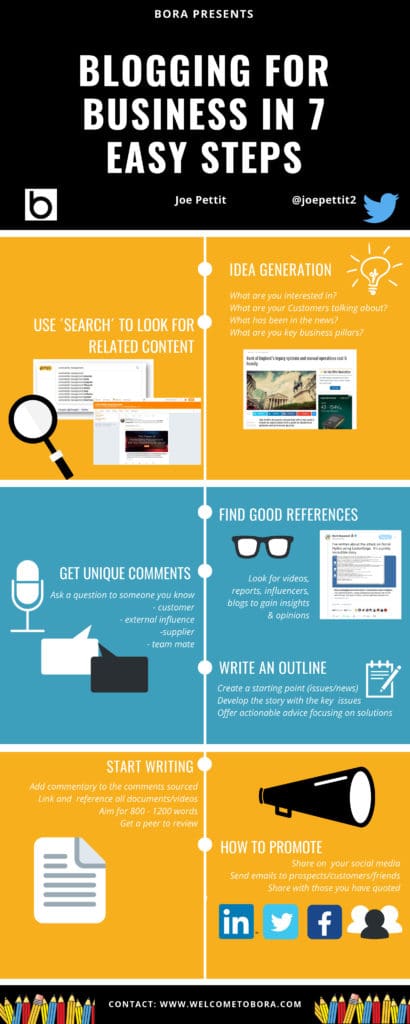 Infographic: Blogging for Business in 7 Easy Steps